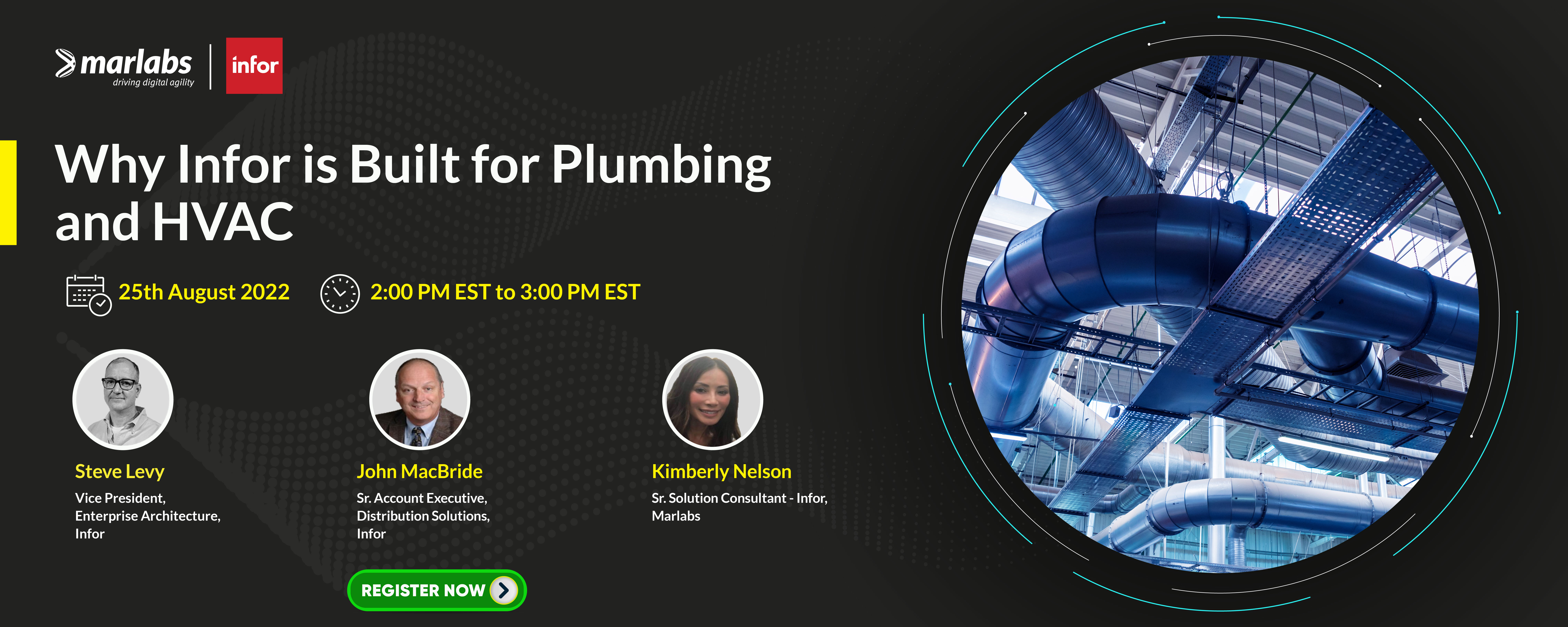 With the challenges in today's market, finding the right employees to take care of your customers is imperative. But we all know it's hard to find them. Many times, it's harder to keep them from going to a competitor.
During the presentation, we will show you tested tools that make your employees more productive. We will be discussing workflow rules that you can customize for your business and assist your people in having a repeatable customer experience. Beautiful modern Interface that will allow employees do their job effectively. And AI tools that will provide upsell suggestions in grow the average order size.
With the right tools, you can easily realize 20% improvement in Sales per Employee. task of enabling your workers to do more with less falls on the business.
Join us on Thursday, 25th August 2022 with experts from Marlabs and Infor for an insightful demo session to:
1. Why a modern UI matters
2. Do more with less – workflows
3. Right for your business – Warranty, rebates, claims, counters, sales, customer promotions
4. Effective business reporting
5. Pricing science – Increase your margin – turn that C customer into an A
6. Platform to support the best in breed
Marlabs plays a pivotal role in licensing and servicing Infor's modern business application software to help customers drive their digital transformation journeys and cloud-first adoption throughout North America, Europe and Asia. Marlabs offers data-as-a-service, testing and development-operations automation for Infor M3, Infor LN and Infor CloudSuite Distribution.
Steve Levy
Vice President, Enterprise Architecture, Infor
Steve Levy is the Vice President of Enterprise Architecture for the distribution industry. Steve has worked in and for the distribution industry for over 35 years. Steve and his team at Infor have successfully helped some of the world's largest and most complex distributors digitally transform their operations. Prior to his arrival at Infor, Steve was the executive vice president at a wholesale paper distributor.
John MacBride
Sr. Account Executive, Distribution Solutions, Infor
John is Sr. Account Executive, HVAC and Plumbing Industry Solution for Distribution. With more than 30 years of experience in wholesale distribution, John has worked closely with customers, prospects, and analysts to understand the challenges wholesale distributors face. He has worked with over 356 companies in the Plumbing, HVAC, and Electrical Wholesale market to improve sales per employee, while improving margin. His focus has been making sales teams more efficient in driving customer satisfaction while improving shareholders return.
Kimberly Nelson
Infor Senior Solutions Consultant, Marlabs
Kimberly Nelson is an Infor Senior Solution Consultant at Marlabs with more than 12 years of wholesale distribution and manufacturing in the automotive and aerospace & defense industry. Kimberly has worked closely with customers, prospects, and analysts to understand the challenges clients face and provide solutions that meet client's business requirements. Kimberly has experience developing an industry roadmap that exceeds customer expectations.