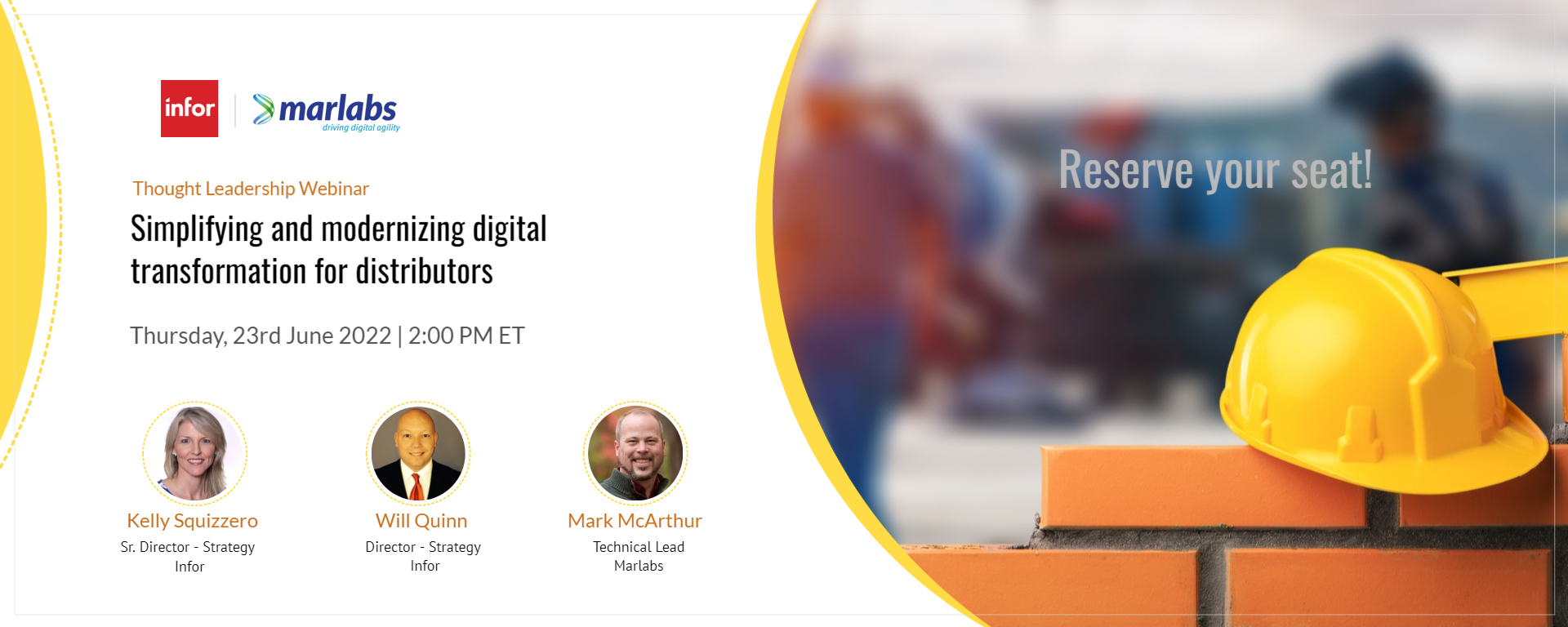 Recent years have brought about an incredible amount of change and acceleration of new trends, and the distribution industry now finds itself at a crucial crossroads. Technology adoption rates have traditionally lagged in this highly competitive industry, signaling an impending need for rapid digitization and modernization. From product innovations to changing the way the industry engages with suppliers and consumers, there are massive opportunities for growth through cloud-based digital capabilities.
Join us at our upcoming webinar on the 23rd of June, 2022 with industry expertise from Infor, as we explore emerging trends in the distribution and building materials industry and how distributors can create new value through digitization.

In this webinar, the panel will cover:
1. Emerging trends in the building products and materials industry
2. How to keep pace with ever-changing customer expectations
3. Process optimization and warehousing
4. The value of industry-specific solution capabilities
5. How distributors can develop their own digital transformation journey
Marlabs plays a pivotal role in licensing and servicing Infor's modern business application software to help customers drive their digital transformation journeys and cloud-first adoption throughout North America, Europe and Asia. Marlabs offers data-as-a-service, testing and development-operations automation for Infor M3, Infor LN and Infor CloudSuite Distribution.
Kelly Squizzero
Sr. Director, Industry & Solution Strategy, Infor
Kelly Squizzero is Sr. Director, Industry & Solution Strategy for Distribution. With more than 30 years of experience in wholesale distribution, Kelly has worked closely with customers, prospects, and analysts to understand the challenges wholesale distributors face. Kelly is responsible for industry growth and investment plans and developing an industry roadmap that creates sustained customer value. Prior to her current role, Kelly held leadership positions in Product Management, Professional Services, and Solution Consulting.
Will Quinn
Director - Industry & Solution Strategy, Infor
Will is a industry thought leader helping distributors to improve their operations and customer satisfaction through innovation. He has comprehensive experience in facilitating multiple warehouse and distribution center operations increasing productivity through efficient coordination of daily work flow and key performance indicators. With his highly collaborative leadership style, he is leading effectively across functional teams and departments, training lean objectives and driving results.
Mark McArthur
Technical Lead, Marlabs
Mark McArthur is one of the Technical Leads at Marlabs. Mark is responsible for supporting customers through their digital transformation journey, with a focus on Infor M3 Enterprise Resource Planning (ERP) software, its peripheral warehouse management application Factory Track, and integrating Infor M3 with other 3rd party software such as manufacturing execution systems (MES) and planning tools. Mark has led efforts in implementing multiple ERP and MES retrofit projects, the migration to Cloud based solutions, as well as mapping business best practices around processes and systems.